Cleaning a Halogen Oven - Tips and Advice
Regular cleaning of a halogen oven is essential to keep the unit free of harmful bacteria and also to ensure acceptable hygiene standards.
The device should be turned off and the power cable removed from the mains before attempting to clean the unit.
Any loose particles of food should be removed by hand or a plastic spatula from the glass bowl any fats or liquid drained away.
Cleaning the oven bowl on a halogen oven is very easy. It can easily be detached from the unit and then cleaned in a sink or dishwasher.
You should clean with warm soapy water if you are washing the bowl or metal or stainless steel cooking racks by hand.
Stubborn stains can be removed with a non-metallic scouring pad. However, you should not use any abrasive cleaners.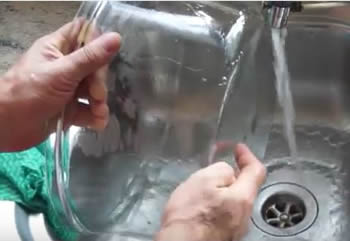 Most
oven
s in the mid to high price range come with a handy self-cleaning feature - this option allows you to pour some water into the bowl and then turn on the oven for 10 minutes, after selecting the wash setting.
The water should be a few centimetres deep and you can also add a mild detergent if you wish.
The oven will then clean itself in about 10 minutes using the heat of the halogen element and the in-built fan.
On completion you oven should be clean and ready for use next time. Sometimes it is necessary to manually clean the upper area of the glass bowl if the auto-wash feature has not been thorough enough.
If you wish to give your device some extra sparkle you can give it a quick once over with a biological cleaning spray and cloth.
The top lid section of the oven with the operating controls on it can be cleaned with a damp sponge or lint free cloth. This section of the device should never be immersed in water.
Most halogen ovens come with a minimum 12 months guarantee for your peace of mind. These mini cookers are generally very reliable and should serve you well for several years if used correctly and maintained properly.