How to Use a Halogen Oven - Tips and Advice
Halogen ovens are very simple to use so there's no need to study any complicated instructions manuals to get up and running.
These innovative little oven are very portable and compact, making them ideal for use for people in all walks of life and types of accommodation.
A halogen oven is a handy home cooking appliance for people living in small studio apartments or flats who want to create scrumptious meals without the extra power consumption of a normal cooker.
They are very popular with students living in rented accommodation and are a great option for elderly people who were prefer not to continue using a traditional oven or hob.
These compact ovens are also used by families on camping holidays where they have the option to hook up to a source of electricity.
They are also handy if touring in a caravan or motorhome with family or friends. They are also widely used in cafes and restaurants throughout the UK.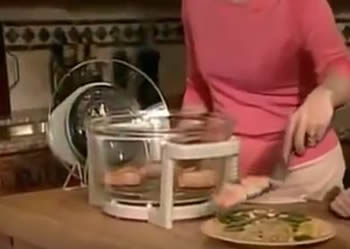 Th
ere really is no big learning curve to using a halogen oven - as with any new cooking device, there is an initial level of trepidation, but once have used your oven a couple of times you'll feel much more confident and operating it will become second nature.
The bowl of your oven will become hot so it's important to position the oven in plenty of space on your kitchen worktop surface, so it's not making contact with wall, cupboard or any other appliances.
As an extra precaution some people choose to place a heat proof mat under the unit but this is not really required as these ovens have a metal or toughened resin base frame to keep the bowl raised above surface level.
Next you need to place the food on to either the low or high cooking rack and then position it inside the unit's large transparent glass bowl.
It's also perfectly acceptable to place your food on a plate, dish, cooking tin or bowl before positioning it on one of the two racks.
A rack must be used at all times to allow the air to circulate around the food - you cannot place food directly into the glass bowl.
The low rack is mainly used for baking, roasting, defrosting, steaming and slow cooking. The high rack is used for toasting, frying, searing and grilling your food.
The low rack keeps food at a further distance from the heating element in the unit's lid, making it the right choice for food which need to be cooked more slowly - stews, casseroles, steam vegetables and fish, for example.
The high rack is the right choice for foods such as burgers, pizza, toast, sausages, chops, steak and chips.
Next you need to set the timer to the recommended time (normally a maximum of 60 minutes) and temperature for the food you plan to cook (this usually ranges from zero to 250c). The oven's motor fan will start operating once you have set the timer.
As you would expect, it is important to set the correct temperature and cooking time for different types of food. Sausages, for example, take around 10 minutes to cook on a low rack, potatoes take 15-40 minutes on a low rack, chips take around 10 minutes to cook on a high rack and an omelette takes 10-12 minutes to cook on a low rack.
Most ovens come with a manual which will suggest times for cooking various types of food and there are plenty of recipe books available to buy to help you prepare delicious meals.
These ovens heat up extremely quickly so pre-heating is rarely required. The oven will not turn on until you set the timer. The green light on the unit will stay lit until the desired temperature is reached.
The thermostat will monitor the heat inside the oven and turn it off an off, as required, to maintain the correct temperature you have set initially for cooking. The oven will turn itself off when the cooking time you set has been reached.
Many ovens have a 'wash' and 'thaw' dials on the control panel. The auto wash feature is particularly appealing as it activates a self-cleaning process. You just need to pour some water into the bowl and the oven will clean itself in 10 minutes by employing the halogen element and built-in fan.
The oven lid will be hot when you remove it from the main unit so you should always place it in the stand which comes with the oven. Surprisingly some ovens don't come with a stand, so make sure you buy one that does have a stand or you will need to find another way to place a hot lid in a safe place.
It is advisable to wear oven gloves when removing the oven lid as the glass area will be hot. Never touch the hot glass bowl during cooking and allow time for it to cool after use before attempting to wash it.
As you can see, using a halogen oven is easy - but becoming a master chef with a halogen oven is a different matter - it won't turn a poor cook into a kitchen guru - you will need to brush up on your general cooking skills if your record at using a conventional oven is poor.